Our final Pay-Per-View of 2019 promises big things, with three title fights poising massive turnarounds for their respective divisions on notice.
We have at the top of the docket, a heated rivalry between Kamaru Usman and the always controversial Colby Covington, two elite wrestlers finally pitted against each other.
Next up is one of the most dominant Featherweight champions in history in Max Holloway set to defend against someone who is seen by many as the one to dethrone the Hawaiian.
Finally, the double champ Amanda Nunes is set to go in a rematch against Dutch striker Germaine de Randamie.
With all the hot matches, we were lucky enough to also snag a few bets sure to make you your next big payday!
---
Kamaru Usman vs. Colby Covington (WW)
This is an intriguing matchup for so many reasons.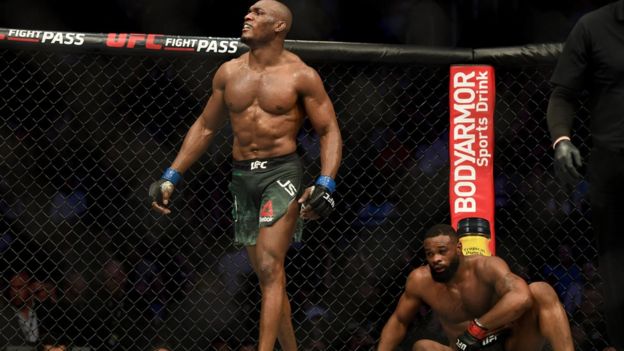 Kamaru Usman (15-1, 10-0 UFC) has not graced the Octagon since taking the title from Tyron Woodley back in March. "The Nigerian Nightmare" uses a wrestling based style based upon inflicting punishment upon his opponent's body and controlling them until they simply give up. He uses heavy pressure and his size to dictate the fight. Despite 6 KOs on his record, Usman has only successfully found one knockout and two lone finishes during his UFC career.
Colby Covington (15-1, 10-1 UFC) is about as close to a clone of Usman as you can get. He has heavy pressure and next-level wrestling chops. Where the two fighters differ is in the striking. Colby's striking produces a much higher output as he recently took the record for most landed strikes in his July bout against Robbie Lawler. On top of that, Covington has an underrated submission game when the opportunity to choke his opponent out presents itself.
The matchup between this two will be decided within the first few minutes based on who can impose their will. I find it unlikely either will muster much control time, instead leaving us with a brawl. When that happens, it's hard to not choose Colby. He has the much more crisp boxing, as well as a ridiculously pacing that Usman may not like should he not get into his usual position in top control.
This is such a close one, but I'm liking the underdog.
Take the Shot: Colby Covington via Unanimous Decision
---
Max Holloway vs. Alexander Volkanovski (FTW)
There is no one at the Featherweight division like Max Holloway (21-4, 17-4 UFC). He doesn't have one-shot KO power and he doesn't have stellar submission skills, but he boxes like no one else can. He just dances in and out of range, never letting his opponent get a shot off. He can work well from both southpaw and orthodox and fires leg kicks too to soften his opponent. What sets Max apart is the cardio and pace that he forces his opponent to try to maintain for five rounds, which they simply cannot do against him.
Alex Volkanovski (20-1, 7-0 UFC) was down for whatever opponent after this fight was almost canceled. He will get his wish to fight the long-time Featherweight great in Aldo in Rio. "The Great" is a true mixed martial artist. He has incredible striking with some power added in, as his 11 knockouts demonstrate. He has nice movement on the feet and knows when and how to move for the right shot. His best attribute, at least in my eyes, is his freestyle wrestling. Volkanovski has an amazing top game with nice ground and pound and I would argue he is the best wrestler in the division.
Despite the wide variety of threats that Volkanovski brings to the table, I don't see any of them doing much against Max. Max's takedown defense is much too good for Volkanovski to hold him on the ground. In addition, the power of Volkanovski only really presents itself when he can get in close. That's a difficult feat to accomplish against Max, even without a five-inch height advantage.
Take the Shot: Max Holloway via Unanimous Decision
---
Amanda Nunes vs. Germaine de Randamie (BW)
Amanda Nunes (18-4, 11-1 UFC) has been one of my favorite fighters for a long time and it's truly incredible to see her finally get the recognition she deserves. Not to mention that she's the best (and only true) double champ, as she is the first one to defend her
original belt. "The Lioness" is as violent of a striker as they come, as shown by her brutal knockouts of Ronda Rousey, Raquel Pennington, and Cris Cyborg. Although Nunes began her MMA career training in karate and boxing at only 4 years old, she has an underrated submission game that is well-respected in the jiu-jitsu world. Nunes is incredible on the feet and has shown almost no holes in her game, fighting well off her front and back foot, as well as impeccable striking defense and movement.
Germaine de Randamie (9-3, 6-1 UFC) will go for the UFC title that has eluded her for ages, despite her only loss being to the double champ Amanda Nunes. Fighting out of AKA, de Randamie is one of the few who does not boast a wrestling gameplan, instead using the world-class ground fighters there as ways to boost her game. She has an 88% takedown defense in the UFC and is near impossible to take down. Even outstriking Holly Holm is an impressive feat, one de Randamie did without any problems. She packs power but has such great defense few can get by her.
Despite all of Germaine's strengths as a striker, she simply cannot come close to the power that Nunes possesses. On top of that, Nunes has next level skill within the brawls. Oh, also ground skill. This is a shoe-in defense where Nunes can further cement her legacy.
Take the Shot: Amanda Nunes via Round 2 Knockout
---
Jose Aldo vs. Marlon Moraes (BW)
Jose Aldo (28-5, 10-4 UFC) was known for the longest time as the greatest UFC Featherweight ever. After two back to back knockout losses to Max Holloway, he has seemingly lost that title. Still, Aldo is fighting what is said to be his second-to-last fight in MMA in his home nation of Brazil. Aldo is a devastating striker with knockout power and extremely well-done kicking. He is a threat to the last second this fight goes.
After a split decision loss to Raphael Assuncao in his Octagon debut, Marlon Moraes (22-6, 4-2 UFC) came back with a fire. Two brutal first-round knockouts gave way to an Assuncao rematch, where Moraes put his opponent on his back with a big shot then choked him out, once again inside the first five minutes. Moraes has built his reputation in the UFC as an elite Muay Thai striker and is the hardest hitter at Bantamweight, outside of possibly Cody Garbrandt. On top of that, his experience as the WSOF champ leaves him no stranger to a five-round fight, not to mention his highly touted jiu-jitsu. "Magic" Marlon is an offensive force who can end the fight at any time, from anywhere, in any way.
For all of Aldo's skill, this is a bad match. Not only is he someone who has always had difficulty with his weight cut and is now choosing to drop down, but he is doing against one of the most fearsome forces of the division. If not for Moraes gassing, he would be champ with the beating he was putting on Cejudo in the first round of their fight. Aldo always starts early and I don't see his power or speed being helped in the slightest by the even more difficult weight cut.
Take the Shot: Marlon Moraes via Round 1 Knockout
---
Mike Perry vs. Geoff Neal (WW)
It's hard to not love Platinum Mike Perry (13-5, 7-5 UFC). He has tremendous power in his boxing, a warring style, and one of the best chins in MMA, hanging until decision with power punchers Alan Jouban and Santiago Ponzinibbio. Perry looked tremendous in his last fight against Alex Oliveira, utilizing his boxing and really showing a dramatic change in his ground game. He defended almost every takedown and when he did find himself on the mat, he hopped up real quick. That's the kind of change that makes Perry a real contender.
We have another Contender Series breakout in Geoff Neal (12-2, 4-0 UFC) coming in with a lot of hype behind his name. Neal is almost exclusively a boxer, who uses volume mixed with power to finish the job. "Handz of Steel" has found his success with boxing because of his ability to avoid takedowns, with an impressive takedown defense rate of 91%. He banks on his southpaw stance for a lot of success, counting on his opponents to feel off balance and isolated so he can use his striking and defense to dictate the fight on the feet.
This to me is a lot closer than the lines would suggest and is worth a look just off of that. In my eyes and the eyes of many others, Perry won his last fight with Luque. Perry also has the type of power to exploit Neal's lapses in defense, something that almost saw Niko Price take a win away back in August. I see the knees of Perry getting brutally involved once Neal's defense wanes.
Take the Shot: Mike Perry via Round 2 Knockout
---
Until next time, Freaks!