We are once again back with another UFC card! This one is a LHW barn burner with the Light Heavyweight debut of Chris Weidman against undefeated prospect Dominick Reyes.
Here I'm going to highlight those fights you can't miss and everything you need to make Boston a profitable night!
---
Chris Weidman vs. Dominick Reyes (LHW)
Here we have another Middleweight making a jump up a division after a rough stint in their native weight class. Chris Weidman (14-4, 10-4 UFC) was on a nine-fight win streak before losing the belt to Luke Rockhold. Now, he sits 1-4 in his last five matches with every defeat coming by knockout. Weidman is a boxer-wrestler combo with deceptively heavy hands and great top control, but his chin has become suspect as of late.
Dominick Reyes (11-0, 5-0 UFC) tore through his first three fights without a second round, but is now off of two decisions, with one being a split with Volkan Oezdemir that many argue he lost. Reyes is a kickboxer with multiple KOs by head kick and solid power in his punches as well. The key to Reyes' game is the absolute warring spirit and unrelenting volume that practically forces his opponents to fold. He has some ground skill and two subs on his record, but certainly tries to keep the fight standing.
This match depends entirely on how Weidman comes out. If we get the killer that dethroned Anderson Silva, there's not a chance in hell Reyes takes the win. However, that Chris has been gone for a while and I'm doubting a jump in weight will help his problems with taking a shot. Looking at you, Luke Rockhold. In addition to that, Reyes has impeccable ground defense, making a draining top game an unlikely outcome for Weidman to take the edge.
Take the Shot: Dominick Reyes via Round 3 Knockout
---
Yair Rodriguez vs. Jeremy Stephens "2" (FTW)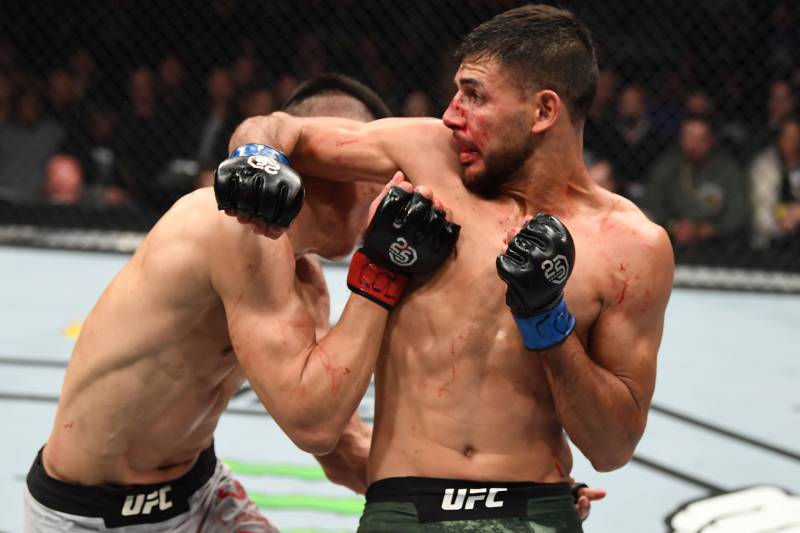 Yair Rodriguez (11-2, 7-1 UFC) stunned everyone with his literal last-second knockout elbow to send Chan Sung Jung to the mat in their Fight of the Year contender, but has not made an appearance since that November. "Pantera" keeps it interesting inside the cage with his wild and unorthodox striking, only benefitted by his lengthy 5'11 frame. He has been to three main events and has become a highlight reel star with his wild power and submission experience.
One of the most dangerous strikers at Featherweight, Jeremy Stephens (28-16, 14-14 UFC) has amassed 19 knockouts in his career. His main skill is his power, as he can be fairly easily outpointed, both in striking and on the mat. That killer blow is going to be a must for Stephens, along with his gas tank. Although his volume and cardio have never been problems, Rodriguez has an odd fighting style and one that will make the counters of Stephens more difficult to land.
After the unfortunate eye poke that turned their first fight into a No Contest, this has some added heat to this. That changes things for me, no matter how little. Although Yair and his unorthodox striking are always fun, his knockout power is far from the extraordinary like with Stephens. With this bout becoming much more personal to Yair, I can see him becoming more erratic and without his home field advantage or an extra two rounds to point fight or wear on his opponent's cardio, this is a bad match.
Take the Shot: Jeremy Stephens via Round 2 Knockout
---
Maycee Barber vs. Gillian Robertson (FLW)
Maycee Barber (7-0, 2-0 UFC) is one of the hottest prospects in any women's division right now. She has finished every UFC bout, including her Contender Series entry, in technical knockout. She has great striking when pressuring forward with powerful accuracy, as well as savage ground and pound work. "The Future" has okay wrestling, but is also yet to be taken down. However, in her last match with JJ Aldrich, she was getting picked apart when her trademark pressuring wasn't able to take hold.
Hot off her first ever knockout, Gillian Robertson (7-3, 4-1 UFC) will be looking to capitalize off the hype of Barber with a big win. Robertson is a submission artist, taking home five total wins in sub. She is dangerous off her back and she has absolutely no problem pulling guard. In fact, her biggest struggles have come when her opponent can take advantage of that and do their own work in their top game.
Maycee Barber looks to be the exact product able to take advantage of that. She has frightening power that she generates from the top and Gillian pulling guard is just letting Maycee into her best area. If this was able to stay on the feet, Robertson may have a shot, seeing the pressure she worked in on Frota. However, that would be a dangerous game to play and I find it unlikely Robertson won't try to take this to the mat. Unless she can get past the defense of Barber and then have her own top game, she's in for a bad night. I simply don't Gillian ending up on top in this match, rather, her own confidence will do her in on the ground.
Take the Shot: Maycee Barber via Round 3 Knockout
---
Kyle Bochniak vs. Sean Woodson (FTW)
Kyle Bochniak (8-4, 2-4 UFC) became a quick fan favorite with his FOTN winning performance against Zabit, although he did take a loss. He followed that with another loss to Hakeem Dawudo, but every one of his UFC bouts has gone to decision. He has some wrestling background, but abysmal takedown accuracy and some struggle with volume, especially for a decision-oriented fighter.
A flying knee got Sean Woodson (5-0) a shot at the UFC after claiming a contract on the Contender Series. Woodson is a hulking Featherweight at 6'3 and likewise does not have the most power behind it. Instead, he makes his money fighting at range. He has some problems with wrestling, but the former boxer would be thrilled to go at it in a barn burner.
Bochniak's pressure and wrestling, no matter how faulty at times, make a rough match for Woodson. At first. Then you realize that Woodson will have 8 inches of height and 9 in reach. That's a rough spot for Bochniak to be in as we will likely be outpointed in volume and not likely to find a takedown.
Take the Shot: Sean Woodson via Unanimous Decision
---