What happened at UFC 241 (aside from an amazing card)? Well sit back, 'cuz I'm about to break it down.
We had a massive upset come in from Khama Worthy, who capitalized on his former teammate's refusal to throw down and landed a massive shot. However, his biggest weakness is his chin so I still don't like him going forward.
Romero vs. Costa lived up to everything it was supposed to be and more, while Nate Diaz got back to his winning ways with a dominant decision over Pettis. Diaz looked revitalized in there, more willing to lean on his ground game and checking leg kicks. If we see a more active Nate, we may very well have the talented grappler at the top end of the division soon enough.
Stipe turned it on in the fourth round and assaulted DC's body then finishing the fighter, nanding him his first Heavyweight loss and only officialm defeat by KO. With his belt reclaimed, Stipe now has some choices to make. Run it back one last time against DC? Accept the Jon Jones money fight? If you asked me, I think the Predator deserves a rematch.
After all that, the UFC is heading on over to China for a Strawweight title fight. Yes, that's our third title fight on a fight night card this year… did I mention I love the ESPN era?
---
Jessica Andrade vs. Weili Zhang (SW)
Jessica Andrade (20-6, 10-4 UFC) is an absolute beast. Although standing at a mere 5'1, she was a feared contender even at Bantamweight, but since her move to Strawweight she has torn through almost everyone, going 5-1 with her only loss to Joanna Jedrzejczyk. The 27-year-old Brazilian has one punch KO power, uncommon for Strawweights and a talented BJJ background which she built her striking off of. Her biggest struggle has been volume strikers who can piece her up from distance, as we saw with both Joanna and Thug Rose in the match Andrade finished with a killer slam, pictured right.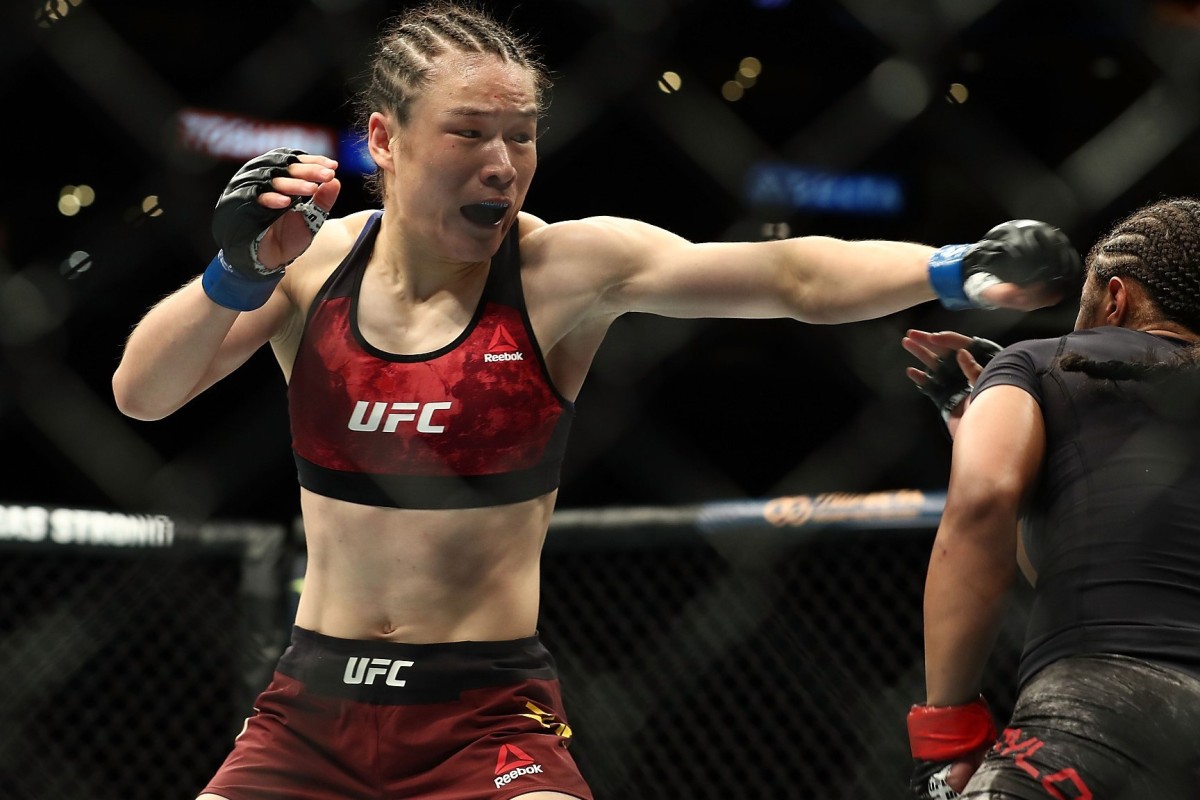 This championship fight and Weili Zhang (19-1, 3-0 UFC) are helping build the UFC market in China. While there is an argument that Zhang was rushed into this title fight, she has not lost a single match of her pro MMA career since her debut, knocking out 9 opponents and submitting another 7. Her career so far in the UFC only has one finish to boost this claim however, an armbar stoppage over the fading Jessica Aguilar. Still, she is an incredibly fun fighter who comes in with a warring mentality and a surefire chin, along with strong wrestling and a sizable frame for the Strawweight division.
The more I look at this, the more I am convinced it is a match set to boost Andrade's title claims. That doesn't mean Zhang won't give a good showing of herself, but her brawling style does not bode well against someone with the power Andrade brings in. Andrade can close the show in one shot and the combinations and forward motion of Zhang don't do enough to alleviate that threat, especially when she comes in close. I also can't see her with much of a ground advantage, due to the scrambling and submission pedigree of Andrade. Zhang has a good chin though, so I don't think this ends super quick.
But it eventually will.
Take the Shot: Jessica Andrade via Round 4 Knockout
---
Elizeu Zaleski Dos Santos vs. Jingliang Li (WW)
Elizeu Zaleski Dos Santos (21-5, 7-1 UFC) has been on a seven fight tear since his split decision loss in his debut against Nicolas Dalby. EZ (yeah, if you think I'm typing that out again, you're on something else) uses the capoeira style, a dance fighting discipline from Brazil, to execute his opponents with wild and powerful strikes. Think Thiago Santos, but even more crazy. He has ridiculous knockout power and great reverse wrestling, with the only real hole in his arsenal being against talented wrestlers.
Jingliang Li (16-5, 8-3 UFC) is not one of those wrestlers. The UFC vet has a well-rounded style with KO and submissio wins. His biggest threat to finish is in his power, as his boxing is top notch, especially in power. However, his volume is somewhat lacking and while hometown judging may help him out in decision, I don't see it going there in a striking battle.
Take the Shot: Elizeu Zaleski Dos Santos via Round 2 Knockout
---
Da Un Jung vs. Khadis Ibragimov (LHW)
What the hell. A double debut in the third-to-final fight?!?
Da Un Jung (10-2) is riding nine victories in a row, many coming as a result of his power and Muay Thai striking. He loves to throw elbows and has some considerable power, but no the same one-punch shot of others. Against, higher level competition, those victories have only been able to come from his devastating clinch striking.
His short notice replacement came as a disappointment to many as Jahamal Hill was supposed to make his UFC debut after the Contender Series, but visa struggles tripped him up. Khadis Ibragimov (6-0) is a wrestling based fighter coming from the M-1 promotion. The combat Sambo world champ has impressive ground control and no shortage of submissions to whip out. Although Jung is a promising striker, he doesn't have the instant KO ability to keep this from hitting the floor, where the Russian will take a sizeable advantage.
Take the Shot: Khadis Ibragimov via Round 1 Submission
---
Kenan Song vs. Derrick Krantz (WW)
Kenan Song (14-4, 2-1 UFC) opened his UFC showing well with two knockouts, although most recently dropping a decision to Alex Morono. Song is a powerful striker with some nice wrestling to back it up, making himself a terrifying hybrid fighter with a chance to finish from all levels.
Derrick Krantz (22-11, 0-1 UFC) had an insanely tough draw in his debut with Vicente Luque. He almost pulled off the upset, dropping Luque in the opening seconds before getting KO'd eventually. Although I think he might be making too fast of a turnaround, Krantz has some real power along with incredible wrestling. He was even able to hold Luque down for a bit and will likely find success like that against lesser opponents.
This will almost assuredly be an amazing fight, one way or another. Both fighters love to push the pace and work to do that while using their power and ground skill. I see Song with the power and technique advantage on the feet, but Krantz likes to go to the ground more often. That has been an issue for Krantz in the past, as he has struggled against high-level grapplers. That in combination with a quick turnaround makes this a match rough for Krantz, but amazing for the fans.
Take the Shot: Kenan Song via Round 3 Knockout
---
Yanan Wu vs. Mizuki Inoue (FLW)
Yanan Wu (11-2, 1-1 UFC) has been a fun prospect to watch out for whenever the UFC travels to China. She is a striker with incredible power and quick movements. She has a limited ground game and was stifled there by Gina Mazany in her debut. While Mazany has some credentialed wrestling, being worked over by her is not the most telling sign of a good fighter.
Mizuki Inoue (13-5) is finally getting a step up to the UFC from Invicta. The Shooto boxing and kickboxing champion has good striking, but does her best work on the back foot working in counters. Her real skill is in the ground game, where she can use her judo and submissions to lock up a choke and finish the fight.
In striking, Wu has a clear advantage, especially with Inoue's issues with speed in her fights. However, this match will inevitably hit the floor and when it does, I don't see a way that Wu will find success. The grappling of her Japanese opponent is too high level and Wu has struggled off her back, as shown against Mazany.
Take the Shot: Mizuki Inoue via Round 2 Submission
---
This card is filled with prospects from top to bottom, as well as a championship fight and quite a few matches with finishes bred into them.
You can already tell this will be a good one.