UFC San Antonio brought us a Welterweight match for the ages, along with some highlight reel knockouts. You can check my predictions here and follow along with how I did. I absolutely loved this card.
---
Leon Edwards def. Rafael dos Anjos by Unanimous Decision (WW)
In terms of high level striking and technique, this match is about as good as you will ever get. Edwards utilized his elite striking and range to work over a former title holder, along with blocking every takedown. He also managed to get his own wrestling in there and dominate RDA on the mat as well as the feet.
I have no doubt that RDA will continue to be a good test for upcoming Welterweights, but I don't see a title streak in the future for him. Edwards may just have it in him. I say his next match all depends on whoever gets the next title shot. If it goes to Masvidal, give Edwards the Covington/Lawler winner, or vice versa if things pan out the other way.
---
Walt Harris def. Alexey Oleinik by Round 1 Knockout (HW)
BOOM GOES THE DYNAMITE!!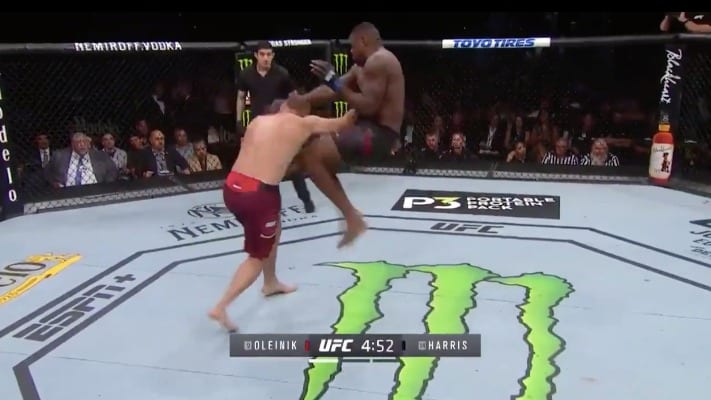 The Big Ticket scored a power shot right after a flying knee attempt to close the show quickly. That, kids, is why you don't try to mak\e a fast turnaround after a knockout loss.
As for Harris' next match, I want to see him pitted against another hard hitter. Derrick Lewis comes to mind, who has not made an appearance since his KO loss to JDS.
---
Greg Hardy def. Juan Adams by Round 1 Knockout (HW)
Hardy ended Adams early after Adams went in for the takedown. Hardy stuffed it then rained down some brutal hammerfists. Anyone bitching about an early stoppage can shut up forever, because Adams not only did not respond to the ref, but also tried to take said ref down immediately after. Hopefully, there will be less whining about Hardy not being UFC caliber after taking out a highly touted striker.
Hardy could certainly make a quick turnaround after such a dominant performance, and  I believe he is deserving of a ranked opponent, or at least someone close to it. The two names I have in mind are Augusto Sakai, currently filling the #15 spot and Maurice Greene, who is also off of a quick KO win.
---
Dan Hooker def. James Vick by Round 1 Knockout (LW)
Dan Hooker came in and executed the (T)executionerhere.
I have been talking about Vick's chin being the most unreliable thing in this sport, besides maybe Dana White choosing title fights, and it paid off here. The Kiwi put on a show-stopping performance that will no doubt catapult him back into contention.
James Vick seems to be on the way down and that chin will continue to be a problem unless he takes a REAL long break. Hooker would look great next up against Charles Oliveira in a kill or be killed striker vs. grappler match.
---
Alexander Hernandez def. Francisco Trinaldo by Unanimous Decision (LW)
One of the worst fights I have ever seen and that's including Ngannou vs. Lewis.
DO NOT WATCH THIS FIGHT!!!
---
Andrei Arlovski def. Ben Rothwell by Unanimous Decision (HW)
Arlovski looked revitalized in there with a new sense of passion. The veteran used his speed and iron resolve to batter Rothwell. He did have an issue with his gas tank in the third, but with a war like that after many other wars, it is understandable.
There are so many young fighters who want to take on Arlovski just to pad their record. It's good to know they have to work for it now.
---
Alex Caceres def. Steven Peterson by Unanimous Decision
Everytime I see him fight, I am more and more impressed by the heart of Bruce Leeroy.
He had a broken hand and still doubled up the volume of the relentless Peterson to get the win. There were lapses in his game when Peterson got a hold of him on the ground.
Peterson is a bad mixup (for his opponent) of an elite jiu-jitsu specialty and unrelenting pacing. This is a bit much of a step up in competition, but if I ever saw a Peterson vs. Korean Zombie match I could die happy.
---
Raquel Pennington def. Irene Aldana by Split Decision (BW)
What made the difference for Rocky in this match was her defense. Aldana isolated her pressure and negated any ground advantage, along with topping Pennington in significant strikes. But that defense made the difference.
Yeahhh, I thought Aldana won.
It really was a great performance from both women and it's good to see our old Rocky back like herself in the cage after two back-to-back losses. Aldana also looked great in there, showing off herself in a match that could be refought in a year or so.
---
Klidson Abreu def. Sam Alvey by Unanimous Decision (LHW)
This was a slow paced fight that was easily one of the worst matches we had. Abreu's stand up did look a lot better, offering some real threats and better combinations, instead of just kind of "blehhh" punches without anything behind them.
---
Jennifer Maia def. Roxanne Modafferi by Unanimous Decision (FLW)
Maia put on a boxing clinic for the most pafrt, despite the efforts of Modafferi to get it to the ground. Maia's TD defense held up all the way through and she only gets better and better the longer the fight goes. It was kind of disheartening seeing Modafferi in this fight because she gave up her volume striking in favor of her relatively newfound wrestling, entirely forgetting what brought her to the dance and deploying sloppy technique.
A huge piece of the narrative in this match was Maia missing weight by four pounds. She was able to entirely outmuscle Roxy away from any clinch positions or takedowns, purely based on her extra weight advantage.
---
Ray Borg def. Gabriel Silva by Unanimous Decision (BW)
Ray Borg got back into his winning ways with a dominant wrestling performance in the second and third rounds after a slow start that saw him in weak positions. His scrambling ability came through once again.
However, I am just not as confident in Borg at 135 pounds with the taller opponents. I mean, imagine 5'4 Borg against 6'0 Pillarte? He definitely has some skills but the issue with Borg is that he simply lacks the physicality of other Bantamweights.
---
Mario Bautista def. Jin Soo Son by Unanimous Decision (BW)
WHAT A FIGHT!!!
Both fighters were in this from the first second to the last on the feet and the mat. The striking and power of Bautista made the difference, however, throwing in brutal knees and elbows with his pressuring style. Any fighter would have gone down to strikes like that and I see an upgrade in opponents for both fighters.
---
Felipe Colares def. Domingo Pillarte by Split Decision (BW)
Pillarte came in with a lot of hype and certainly the love of the Texan crowd. However, his slow start cursed him once again. He has a tendency of letting himself get pressured and not get his own range off, which really just screws himself over if it doesn't go the distance. By the time Pillarte got back on the horse, it was too late and Colares took home a closely contested win.
Pillarte has some real work on his game if he wants to stay competitive, but both ground based fighters would surely be dangerous against a less adept opponent on the ground. There were quite a few moments for both fighters in which the show almost got closed, but fought on due to pure fighter acumen.
---
In terms of technique and rewatchability, this was an amazing card, so I better not see another person whining on Twitter about "ohhh too many decisions". Stay tuned, as predictions for next week's card will be up in a matter of hours!
Until next time, Freaks.