13th On this lovely Saturday night culminating International Week, we had a championship doubleheader featuring Jon Jones taking on the ever-violent Thiago Santos and Amanda Nunes fighting Holly Holm. This being a results article, the results are down below, so full warning. I clean my hands of all spoilers.
---
Jon Jones def. Thiago Santos by Split Decision
Wow.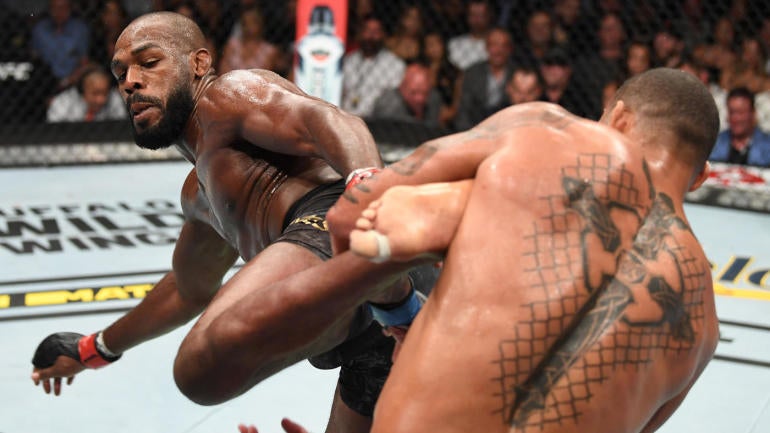 No one expected this fight to go to decision, much less a split decision.
Thiago Santos worked an amazing and technical gameplan out and won the first round, no doubt, before his leg failed him and he suffered from some form of knee injury. Still, he hung in there and fought his heart out with the greatest to ever be in the cage.
This fight exposed a path to beating Jones: leg kicks. When Thiago was threatening the legs of Jones, Jon was entirely unable to fire off his usual teep kicks and game plan of blocking a fighter and wearing them down. Still, the volume showed out for Jones and he won against an absolute weapon in there.
I want to see this fight run back as soon as possible. I understand there are many up and comers in that division, in Anthony Smith, Reyes, and Blachowicz, but that is the closest fight (besides maybe the first Gustaffson match) Jon Jones has ever been in. Let's see it again soon!!!
---
Amanda Nunes def. Holly Holm by Round 1 Knockout
This was soooo crazy.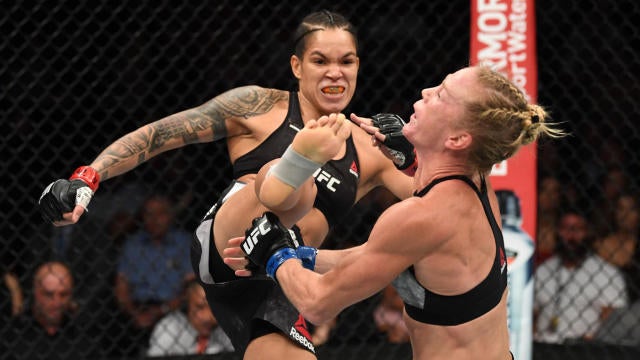 Maybe not as crazy as Masvidal's KO, but still.
She knocked out Holly Holm the way Holly Holm knocks people out!
She really is the best female fighter to ever grace the Octagon, or the sport as a whole.
I'm excited to see her fight whoever she fights next, which will either be the winner of Ladd vs. De Randamie or the winner of Cyborg vs. Spencer.
HOW WAS THIS ONE NOT THE HEADLINER?!?
---
Jorge Masvidal def. Ben Askren by Round 1 Knockout
HOLY SHITTTTT!!!!!
ANCJIUWNADKNCJCNCJNRBYCJWL!!!!
Fastest knockout ever.
Flying knee five seconds in.
Oh. My. God.
Masvidal better get that title shot. He deserves that, I want to see it.
Please, please, please, make that happen.
JORGE MASVIDAL!!!
I STILL CAN'T HANDLE THIS!!!!
---
Jan Blachowicz def. Luke Rockhold by Round 2 Knockout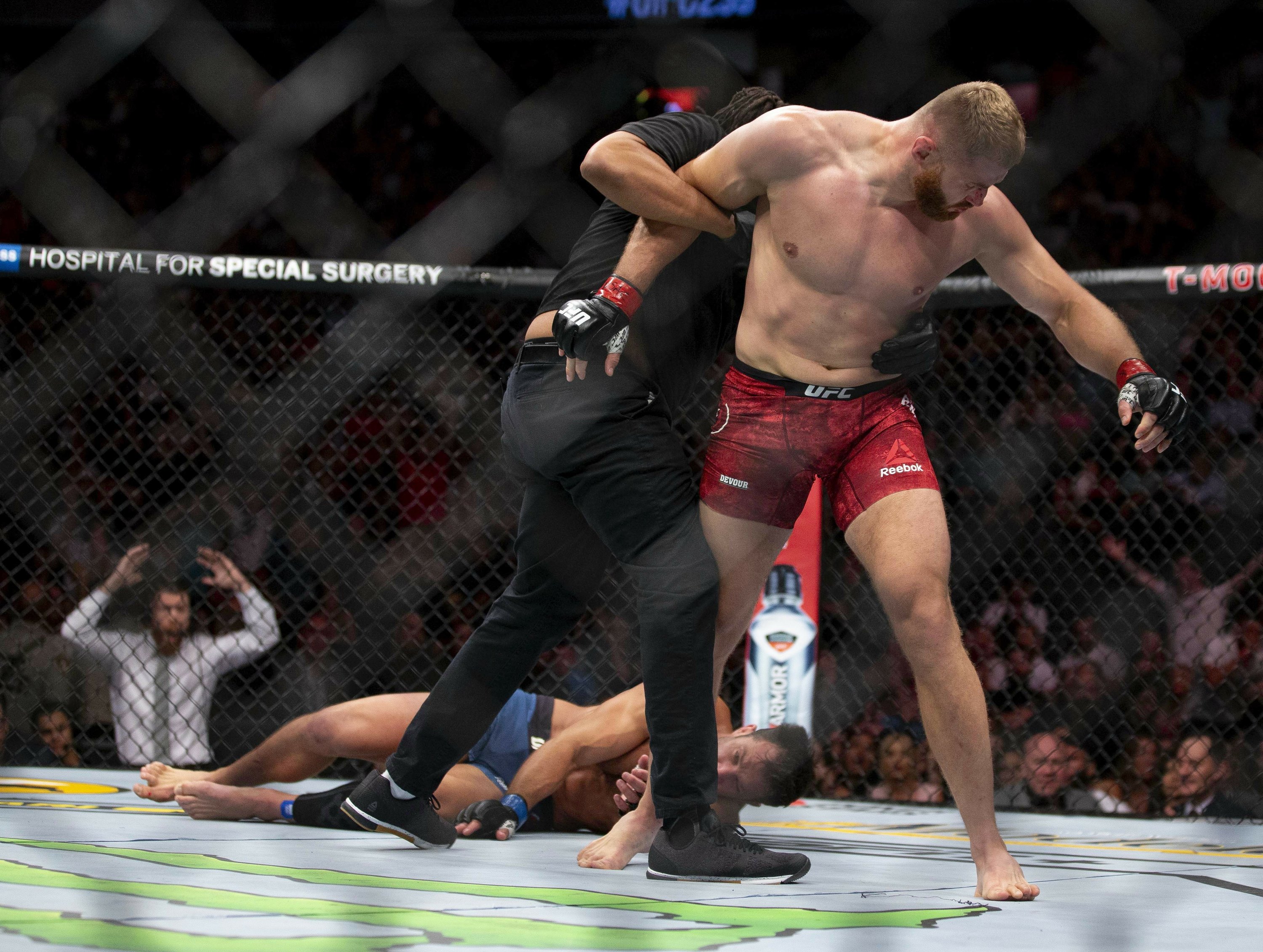 AYY AY POLISH GANG!!!
Jan Blachowicz rocked Luke's bell at the end of the first round then finished him in the second. It's great to see the striking of Jan get better and better as he keeps fighting. The chin of Luke really cannot stand up to the Light Heavyweight division, but I wouldn't mind him against Glover Texiera.
The striking of Jan combined with his ground game shows how much of a threat he really is. This win could be transformed to a title shot with just one more big win over either Anthony Smith or Dominick Reyes, them being the two biggest contenders.
---
Michael Chiesa def. Diego Sanchez by Unanimous Decision
Never say anything about the fight inside of Diego Sanchez. He hung in there until the last second, despite being utterly dominated by Chiesa. I have NEVER seen anyone do anything remotely close to that to Diego Sanchez. Chiesa had unbelievable speed and a ruthless submission game that didn't give up, despite the toughness of Diego.
Chiesa does deserve a shot at a ranking next to his name, but he also deserves an opponent who isn't on the tail end of their career. Vicente Luque fits that description.
---
Arnold Allen def. Gilbert Melendez by Unanimous Decision
The first two minutes when Melendez was applying pressure, it looked like he had a fighting chance. After his speed fell, Allen put on a striking clinic and showed his technique and beautiful head movement, putting up a brutal volume. Allen couldn't use much of his wrestling here because of the powerful ground game Melendez offers, but he didn't need to. His striking did more than enough to get a dominant decision over the aging veteran.
I really hope Melendez retires. This puts him at 1-5 in his UFC career and no one needs him fighting anymore. No one deserves a ranked shot more than Allen, who is now 6-0 in the UFC. I think the perfect matchup would be Ricardo Lamas, who is coming off a loss to Calvin Kattar.
---
Marlon Vera def. Nohelin Hernandez by Round 2 Submission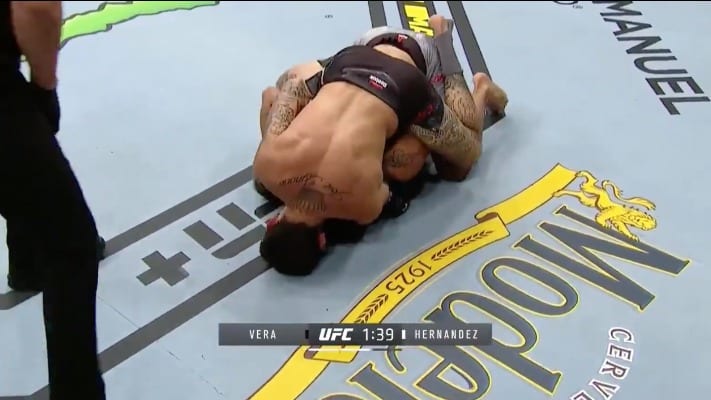 Marlon Vera started off in the right move, pressuring Hernandez and getting his powerful striking in before taking the back and logging around two minutes of control time before Hernandez got through some brutal submissions to reverse the position and end the round with some big hammerfists. Vera finished the show in the second, dropping Hernandez with a flying knee and choking him out.
Vera showed his finish-loving self once again, along with his increasing striking game, which has only gotten better and better since his move to the UFC. He did show that he could be taken advantage of by a wrestler, but was always able to keep a threat, even on his back. It's a shame the O'Malley fight fell through, but Vera truly deserves a ranked shot as soon as possible. It may not be his next fight with the stacked nature of the Bantamweights, so I'm thinking a fight with Sergio Pettis.
---
Claudia Gadelha def. Randa Markos By Unanimous Decision
This wasn't exactly action-packed but it says a lot about the longevity of Gadelha's future. Typically, she relies totally on her wrestling and her cardio absolutely gives out. She showed great striking, better defense and head movement, and MUCH improved cardio. We didn't see much of her usual ground game, but that may just have been the submission game of Markos. Once again, Markos' own inconsistency was her downfall and she didn't put up the offense or volume to get or even deserve a win.
---
Song Yadong def. Alejandro Perez by Round 1 Knockout
This was a knockout and one that was cold-blooded. Yadong is a violent and powerful striker and he proved that here, standing and trading with someone who specializes in their boxing. He offered up leg kicks and followed it with powerful counters, proving why I think he is the reincarnation of McGregor.
Not much to say for Perez after that quick finish, but Song will likely burst onto the rankings soon after that performance over the #13th ranked fighter. If he could make a quick turnaround, he could have another profile match against Rob Font, whose matchup two weeks ago was scrapped.
---
Edmen Shahbazyan def. Jack Marshman by Round 1 Submission
Edmen Shahbazyan took Marshman down quickly, threw some amazing G&P and then submitted Marshman when he gave up the back. Shahbazyan proved he is super well-rounded and he deserves a threat in the name of the rankings. There isn't much to break down, but I would love to see him match up against Brad Tavares, who hasn't had a fight since he lost to Israel Adesanya.
---
Chance Rencountre def. Ismail Naurdiev by Unanimous Decision
Naurdiev came out with brutal body shots, kicks, and odd wrestling reversals. Rencountre used his wrestling and control time to dictate the rest of that round and the second one, making an entire transformation of the advantage. On the feet, Rencountre could hardly land a shot but knew to take his wrestling in there. There's something to the  chin of Rencountre, taking Barboza level body kicks and punches that would have put most people to sleep.
This was surprising considering that Naurdiev walked over Michel Prazares, who is a better wrestler than Rencountre. I think that it was a horrible loss in the gas tank of Naurdiev after that brutal round. Even by the second round, he was exhausted and by the third, he had no shot. The first round was beautiful by Naurdiev and the effect of Rencountre really showed. Both fighters will be good going forward and I would love to see Rencountre up against Curtis Millender.
---
Julia Avila def. Pannie Kianzad by Unanimous Decision
Julia Avila came across with a nice win to start off her UFC career. She has serious power in her hands, but a few issues with her fight IQ. She had Kianzad hurt and could have had a third-round knockout or even second round, but she went into the clinch or a control period. Whether she was gassed or looking for a choke, her best area is in striking and she kept heading for the clinch, although Kianzad kept taking the advantage there.
She also showed some issues in striking defense, and she got pieced up at times by Kianzad. Avila kept doing the Holly Holm thing, where she ki-yas and just hits the air. Any fighter with a high volume should be able to work Avila over unless she gets that defense up. Speaking of Kianzad, she may be out of luck in terms of the UFC, after getting outworked on both the feet on the ground.
---
What a great night of fights. The prelims picks for next weekend's UFC match in Sacramento are out now and the UFC world keeps on spinning.
Until next time, Freaks.