Well, it's been two weeks and I'm jonesing for some MMA. Luckily, we have a fun, heavy card coming at us from Stockholm, Sweden. For this one, we are headlined by Alexander Gustafsson and Anthony Smith, who are both coming off losses to Jon Jones. Right behind that, we are being served up a guaranteed war between the brutal Volkan Oezdemir and Ilir Latifi. We have some big boys this week with some big knockouts.
Prelims
Danilo Belluardo vs. Joel Alvarez (LW)
Danilo Belluardo (12-3) will be coming up to Stockholm to make his UFC debut. Belluardo is coming out of the Venator promotion in Italy. Belluardo has shown good elements of a well-rounded style, landing 6 knockouts and 3 submissions, but he also has the gas tank to go the distance if he needs to. The main weakness in Belluardo's game has been his chin and that will be an issue moving forward, if not against Alvarez.
Joel Alvarez (15-2, 0-1 UFC) fell short in his UFC debut with a decision loss to Damir Ismagulov. Alvarez is a machine on the ground and has cranked out 14 wins by all different kinds of submissions. In fact, that loss to Ismagulov was his first fight that ever went the distance in his pro career. Alvarez's first fight did not go as planned, as he got entirely outstruck and did not shoot for a single takedown. That is deeply concerning here, as he will need that ground game in this match.
This is looking like a submission or bust match for Alvarez, as I am assuming many of his matches will be. He is not a very good fighter on the feet and can be easily outworked by volume, along with not having power. His gas tank isn't the best, either. The advantage here is going to with Belluardo in every area except for submission skill and considering Alvarez's absolute disregard for takedowns and Belluardo's defense, I am going to VERY tentatively side Belluardo.
Take the Shot: Danilo Belluardo via Unanimous Decision
Devin Clark vs. Darko Stosic (LHW)
Devin Clark (9-3, 3-3 UFC) came in as a Middleweight then bumped up to LHW after struggling with weight cuts. Clark is a wrestler who likes to grind his opponent up against the cage and control them with position to the decision. His striking is viable and he gets by using it, but doesn't have much finishing ability in his striking or submissions.
Darko Stosic (13-1, 1-0 UFC) burst into the cage with a first round KO over Jeremy Kimball. Stosic is built like a truck and hits like one too. The Serbian fights almost like a Heavyweight at first, plodding forward with a tight guard up. Then he will rush out of nowhere and slam his fists towards his opponent. He mostly fights as a striker, as shown by his 8 KOs, but has no issue with slicing an elbow or knee in. He also has a nice judo throw and has brutal ground and pound once he is on top.
I haven't liked what I have seen from Clark. I normally like these grindy fighters who work their opponent down and dominate them, but Clark has trouble using his size right at 205 pounds. The other issue is his chin. He cannot take a punch, especially from these bigger fighters and he is going up against someone in Stosic who will gladly break his nose, Serbian style. Clark's only hope here is just like all his other matches — take them down and hope the judges like him lying on top. I don't see that happening with Darko's power and excellent takedown defense.
Take the Shot: Darko Stosic via Round 2 Knockout
Duda Santana vs. Bea Melicki (FTW)
Ahhh, a lovely double debut. Here it actually makes sense, as the Women's Featherweights are seriously lacking in talent. Duda Santana (3-0) is coming out of Brazil as a striker. In her striking, she looks fairly mediocre. She has good footwork and movement and some power in her knees but has difficulty closing the show.
Bea Malecki (2-0) is also not a very experienced fighter but has more of the raw talent to make up for it. She is a natural Featherweight at 5'11" and will tower over Santana here. She loves to throw knees at her opponent and can stand and strike nicely. She has some submission potential but looks to have her best work in the striking department using her power. The issue with Malecki here is her gas tank as both her pro fights have ended inside the first round. I think Malecki has the advantage wherever this goes besides the distance, which will be Santana's key to victory. This is another match where I am not confident, but I think Malecki has the much better Muay Thai and overall striking to get the quick win.
Take the Shot: Bea Malecki via Round 1 Knockout
Nick Hein vs. Frank Camacho (LW)
Sergeant Nick Hein (14-4, 4-3 UFC) is coming to us from Germany. Hein is mostly a wrestler who uses that to grind his opponent into the mat to get a decision victory. He is definitely one of those position above submission fighters who aims to use his gas tank and ground game to best his opponent. All but one of Hein's UFC fights have gone the distance and his wrestling combined with point-striking make him almost an automatic winner when you hear that final bell.
Frank "The Crank" Camacho (21-7, 1-3 UFC) has had a rough go in the Octagon. His 16 knockouts on his record haven't given him enough power to get a win and his mediocre clinch work is an entirely different issue that has given him a lot of problems. Camacho's worst opponent is someone who can grind him and stifle that power of his using wrestling aaaand he's up against a wrestler. *sigh*
Take the Shot: Nick Hein via Unanimous Decision
Stevie Ray vs. Leonardo Santos (LW)
One of the UFC's few Scottish fighters will be making an appearance here. Stevie Ray (22-8, 6-3 UFC) is a generalist who has had middling success in the Octagon. Although "Braveheart" has 6 knockouts and 8 submissions, his only UFC fight to not go the distance was a knockout loss to Paul Felder's elbows. His biggest strength in the Octagon has been his striking and he likes to work around the outside and use his left hand to stand and bang. Ray does not have the best power, but that doesn't stop him from loading up on massive shots.
The 39-year old Leonardo Santos (16-3, 5-0-1 UFC) will be coming off of a two and a half year layoff that has been plagued by injuries. Santos was riding a huge hype train because of his love for the finish and submission skill. Although Santos does fairly well on the feet, he really makes his money on the ground. He can ground and pound his opponent into the mat or crank their neck until you're audibly wincing just watching at home.
If this match happened two years ago, it wouldn't even be close. Santos exists in that immortal class with Yoel Romero, where their age doesn't seem to work along the same lines of the rest of the human race. With his layoff, there is bound to be some ring rust tossed into the mix. However, Ray just doesn't have the finishing ability to take advantage of that and will give Santos the time to get back on the saddle and run his opponent into the ground.
Take the Shot: Leonardo Santos via Round 3 Submission
Tonya Evinger vs. Lina Lansberg (BW)
Ahhh, nothing like two 37-year-olds going at it to give you faith in the depth of the Women's BW division. Tonya Evinger (19-7, 0-2 UFC) was the longtime champ over at Invicta before coming over to face Cris Cyborg. Despite her two UFC knockout losses, she is someone who can (usually) take a lickin' and keep on tickin'. "Triple Threat" got her nickname for a reason — she can knock you out, submit you, or grind you along to the distance to get the win.
Despite the nickname "Elbow Queen", Lina Lansberg (8-4, 2-3 UFC) has only gone to a decision in her UFC wins. She was also brought in as a victim to Cris Cyborg and has since been a testing point for fighters in the BW division. Lansberg is a striker who uses volume to piece her way to a victory, but her Muay Thai strikes can also make it a really bad night for her opponent. In terms of a ground game, Lansberg doesn't really have one. She has mainly been matched up with strikers and has used that to her advantage.
Don't let the physique of Evinger fool you. She has brutal power along with amazing wrestling and a good number of submission victories to further pad her record. Her 10 fight win streak did not come out of nowhere and she is incredibly developed in every aspect of her game. Lansberg just isn't on that level and I think she will go back to her low-level gatekeeper slot in the UFC.
Take the Shot: Tonya Evinger via Unanimous Decision
Sergey Khandozhko vs. Rostem Akman (WW)
Yet another double debut, lucky me. And in our prelim headliner. Joy.
Sergey Khandozhko (25-5) is an animal. "Honda" is big for 170 pounds and has fought high-level competition in the European and Russian circuits. He has great striking and crafty submissions and has gone the distance quite a few times. In my opinion, his UFC shot has been a long time coming and his finishing skill has shown that.
Along with looking like a real-life werewolf, Rostem Akman (5-0) is a ruthless striker. Every single win of his has come by a finish, which led him to this late notice replacement. He also has a nice submission game and has been able to lock up tight submissions in his amateur career. That being said, he has mostly gone up against low-level competition and hasn't had any real tests. He uses strikes from all angles and all limbs, but they are heavily telegraphed and he has a brawling style.
Khandozhko is the more technical fighter. It isn't a question. He is a legit striker who makes incredible traps but also has impressive wrestling and a ruthless top game. While Akman is a lot of fun to watch, he hasn't had a real test up to this point and his gas tank has been a serious concern. Sergey should have the advantage wherever this fight takes place and we have a FOTN contender here with these fighters who love to dish it out.
Take the Shot: Sergey Khandozhko via Unanimous Decision
Main Card
Daniel Teymur vs. Sung Bin Jo (FTW)
Daniel Teymur (6-3, 0-3 UFC) has had a rough run in the Octagon after coming in with 6 first-round finishes. Teymur has gone up against killers in the Octagon, such as Arce and Fishgold, who is later on this fight card. He has 3 wins by knockout and submission, but the two massive holes in his game are his submission defense and cardio. He fades pretty quick into the second round and struggles with specialists of any discipline. This seems like a life or death scenario for Teymur, who will get a ticket home if he loses this match.
Teymur will be giving up a 6–inch height and 5-inch reach advantage.
Sung Bin Jo (9-0) will be making his UFC debut after having all 9 victories in finishes. This should be an easy win for him. All the tape I have seen shows an incredibly technical boxer with a brutal jab that can drop his opponent with one shot. On top of that, he has good jiu-jitsu. Although his advantage is in boxing, he will still be much better than Teymur, who is purely an offensive fighter. In case you needed any other reasoning, Jo's cardio is well-proven and has brought him into the championship rounds before.
Take the Shot: Sung Bin Jo via Round 2 Knockout
Christos Giagos vs. Damir Hadzovic (LW)
Christos Giagos (16-7, 2-3 UFC) left the Octagon for a bit after a 1-2 stint. He looks to be back in that same spot now as he is coming off a submission defeat to Oliveira and a decision win over Mizuto Hirota. "The Spartan" is at his best when he is using his striking. His striking is not the most powerful, but he has great boxing combinations and nice footwork. He has some power in his hands, but they are more from chance winging rights than the one-shot power of Manuwa or Oezdemir.
Giagos loves a good brawl and no one would rather give it to him than Damir Hadzovic (13-4, 3-2 UFC). "The Bosnian Bomber" has a Muay Thai striking base and will throw knees up at any chance he can get. Hadzovic can match the footwork of Giagos with no issue, but the speed and power will be his biggest advantages. He launches in with knees and kicks as well as massive punches. Hadzovic has a few wins by submission and if anyone will go to the ground, it's going to be Hadzovic.
On the feet, this is a close match. Giagos has the volume to put the numbers in against his opponent from the outside, but Hadzovic has speed and serious power. Hadzovic has a great offense but his defense will keep him from a finishing threat, making Giagos' path to victory a finish. If this goes to the mat, it's all Hadzovic. He has an underrated submission potential and against someone completely lost on the ground like Giagos, this will be an easy one.
Take the Shot: Damir Hadzovic via Round 2 Submission
Makwan Amirkhani vs. Chris Fishgold (FTW)
We're in for a wrestling match to break up these striking battles. Makwan Amirkhani (14-3, 4-1 UFC) will be coming off a year-long break from his split decision win over Jason Knight. "Mr. Finland" is a ground expert with 9 submissions but stunned UFC fans early with an 8-second knockout in his debut, the only knockout on his record. Despite that, he doesn't like to risk it on the feet and shoots for takedowns quickly and repeatedly and doesn't leave any room for striking.
Yet another ground expert here is Chris Fishgold (18-2, 1-1 UFC). Although losing his first Octagon fight with a knockout loss from Calvin Kattar, Fishgold came back with a second-round choke over Daniel Teymur. Fishgold has 13 submission victories from a variety of chokes and they will have a tight matchup here between very similar styles. On the feet, Fishgold has some power and will gladly pound away at his opponent while looking for opportunities to go to the ground.
This is a close ground matchup. Both fighters are skilled at submissions and it's hard to tell who will have the advantage. Either fighter has the opportunity to grab the back. I see Fishgold having the better defense, as he is a master at grabbing guillotines. I think that when Makwan inevitably shoots, Fishgold will put him in a risky position with that guillotine and either finish or use it to find his own advantage in wrestling or striking.
Take the Shot: Chris Fishgold via Round 3 Submission
Jimi Manuwa vs. Aleksander Rakic (LHW)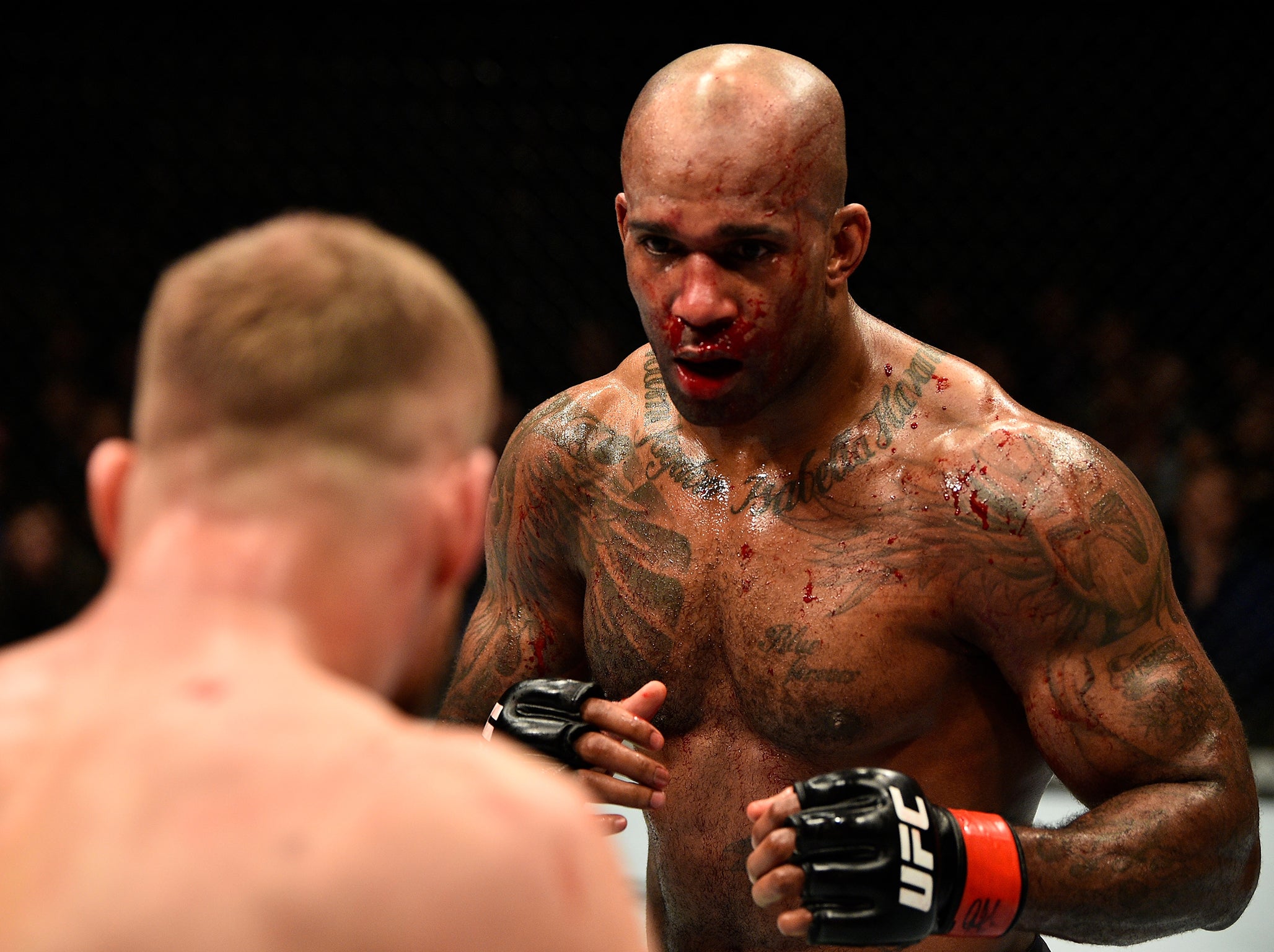 At this point, there's no secret to Jimi Manuwa (17-5, 6-5 UFC). He's a glass cannon. Manuwa can fire heavy hands like no one else, but the issue is that he can't really take them himself. He holds 15 wins by knockout but 4 of his 5 losses have come from that as well. That doesn't look to be a problem going away anytime soon as Manuwa recently turned 39, but against the right opponent, that power will still be a problem.
The issue is that his opponent Aleksander Rakic (11-1, 3-0 UFC) is also a power puncher. He may not always have the one-shot punch, but his 5 inches of height will become a serious issue for Manuwa. Rakic is amazing at finding his range and has some of the best striking defense at Light Heavyweight. His power and range should be enough to put Manuwa away and along with his defense keeping him away from those power shots. In case you needed any more convincing, Rakic is more than capable of landing takedowns and ground and pounding his way from there. Although Rakic shouldn't be considered any sort of specialist on the ground, he's much better than Manuwa.
Take the Shot: Aleksander Rakic via Round 2 Knockout
Volkan Oezdemir vs. Ilir Latifi (LHW)
Volkan Oezdemir (15-4, 3-3 UFC) got rushed into a title shot in an odd, albeit entertaining fashion. Oezdemir is an absolute monster in the pocket and has the power to put the lights out with one punch. His two knockouts over Manuwa and Cirkunov were both under a minute and displayed his absolutely insane power. You don't get the nickname "No Time" for nothing. He can generate ridiculous power from what seems like the smallest of shots. Oezdemir's struggle has always been his cardio but with his recent match with Dominick Reyes (which was a robbery), he has shown considerable improvement in that area.
The Sledgehammer Ilir Latifi (14-6, 7-4 UFC) has floated around the mid-tier of the 205-pound division for a few years now. The 5'8″ Latifi has shown struggles with the reach disadvantage he is almost always having to deal with but likes to get close using a flurry of punches. Latifi also has a great wrestling background and has shown a strength that Heavyweight champion Daniel Cormier has remarked on being one of the strongest grapplers he has ever faced.
This feels like a bad stylistic matchup for Latifi. His huge disadvantage in the height and reach department has given him a style that excels when he can blast his way in close. He can either put his opponent out with a big shot or take them to the ground. The issue here is that is Oezdemir's best spot. Although Volkan has serious problems in his ground game, Latifi's takedown accuracy is not good enough to expose those issues. Look for Oezdemir to bring that No Time moniker back into play the first time Latifi tries to bring it in close.
Take the Shot: Volkan Oezdemir via Round 1 Knockout
Alexander Gustafsson vs. Anthony Smith (LHW)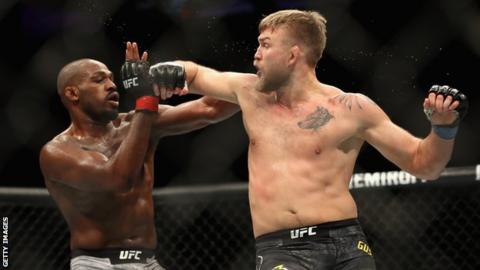 Our main event here has both fighters coming off losses in championship bouts to Jon Jones. Alexander Gustafsson (18-5, 10-5 UFC) suffered a third-round KO to Jones in their rematch after their Fight of the Year match back in 2013. Gustafsson is not called "The Mauler" for no reason. He holds 11 wins by knockout and has no shortage of knees or even Superman punches to throw at his opponent. Gustafsson is primarily a boxer and likes to use his pressure and range to keep the fight on the feet where he wants it.
Anthony Smith (31-14, 7-3 UFC) moved up to 205 pounds after a loss to Thiago Santos at Middleweight. His 3-0 record at LHW got him a shot against Jones where he lasted to the decision, despite taking an illegal knee from Jones and refusing to receive the DQ win. "Lionheart" is also no stranger to the knockout, with 17 wins by that on his record. Two of his LHW wins came through knockouts within the first two minutes of the match. On top of dangerous striking, Smith has great submission potential, although not always carrying the wrestling threat to get it there.
The wild card here is the durability of Anthony Smith at Light Heavyweight. He withstood the power of Volkan Oezdemir, which is no joke as I said above. On top of that, he lasted to a decision with Jon Jones, yet another feat very few can claim. I don't think cardio should be a factor in this fight for either fighter. Gustafsson has more technical boxing, but in terms of power, I see Lionheart with that advantage. Even though Gustafsson has nice takedown defense, it abandons him as the fight goes longer and Smith will be worlds better on the ground.
Take the Shot: Anthony Smith via Round 4 Submission
Our main card for this great morning of fights is being kicked off at 10 AM in the EST. So that is a lovely reward for not having anything last weekend.
Until next time, Freaks.